Q: How will my calendar dateCells look with this library?
A: However you want it to look.
Features
---
Range selection - select dates in a range. The design is entirely up to you.
Boundary dates - limit the calendar date range
Week/month mode - show 1 row of weekdays. Or 2, 3 or 6
Custom cells - make your day-cells look however you want, with any functionality you want
Custom calendar view - make your calendar look however you want, with what ever functionality you want
First Day of week - pick anyday to be first day of the week
Horizontal or vertical mode
Ability to add month headers in varying sizes/styles of your liking
Ability to scroll to any month by simply using the date
Ability to design your calendar however you want. You want it, you build it
Important Change in version 7.1.0 –> #553
Tutorials
1. Building a Calendar from scratch
2. Designing the Calendar [Part1]
3. Mastering Calendar layouts
4. Common Questions #1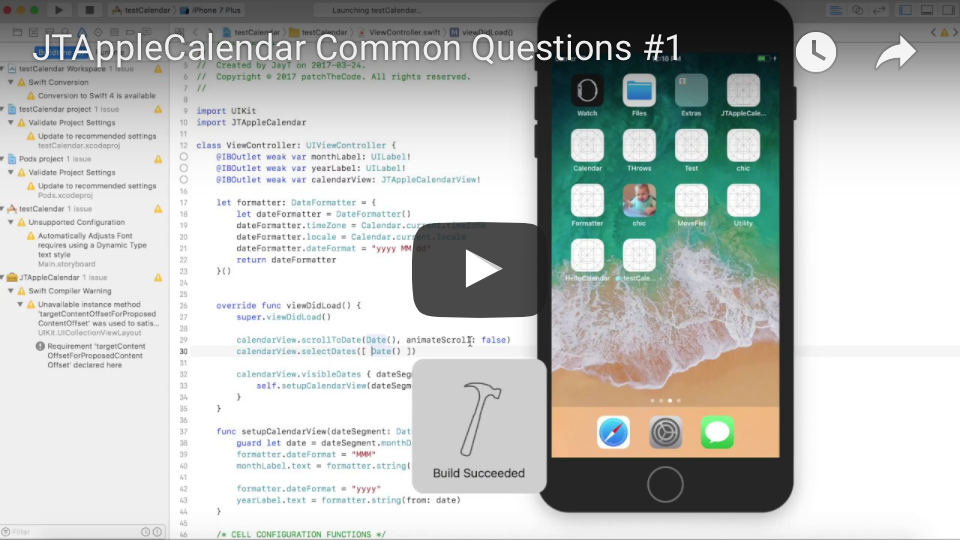 Installation
---
3. Installing manually
Simply drag the source files into your project.
Author
JayT, patchthecode@gmail.com <– Sending me emails will not get you a swift response. I check it once every 2 weeks or so. Create a new issue here on github if you need help.
License
JTAppleCalendar is available under the MIT license. See the LICENSE file for more info.